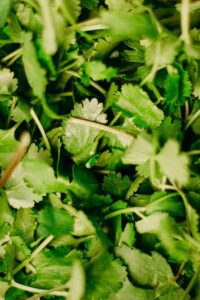 Hoe gezond is koriander?
Hoe gezond koriander is? Daar kan ik kort over zijn: heel gezond! De medicinale eigenschappen van deze eenjarige plant zijn al eeuwenlang bekend. Door de jaren heen is ontdekt dat koriander onder andere goed is voor je bloeddruk en cholesterol. Ook is het kruid ontstekingsremmend en heilzaam voor een stabiele bloedsuikerspiegel (1).
Wat is koriander?
Om er wat dieper op in te gaan: koriander is een eenjarige plant uit de schermenbloemfamilie (2). Oorspronkelijk komt het kruid uit westelijk Azië. Het blad heeft een typische smaak. De één vindt het naar zeep smaken, de ander naar anijs. Dat is overigens genetisch bepaald (3).
Voor welke klachten te gebruiken?
Zoals ik al schreef, is koriander onder andere te gebruiken om een hoge bloeddruk en hoog cholesterolgehalte te verlagen. Het is een sterk antioxidant (4) waarmee je het immuunsysteem kunt ondersteunen. Dus het is niet zo gek het te gebruiken als je een verkoudheid of griepje hebt, net als vitamine C, D en zink.
Maar wat te denken van ontgiften van zware metalen? Daarvoor kun je koriander ook heel goed inzetten. Zeker in combinatie met chlorella (5). Door de luchtvervuiling en pesticiden in eten en andere producten, kun je niet altijd ontkomen aan zware metalen in je lijf. Bijvoorbeeld kwik, nikkel en aluminium. Ik heb dit zelf ervaren. Je krijgt er rare klachten van, zoals depressieve gevoelens, mist in je hoofd en vermoeidheid (6).
Hoe eet ik koriander?
Dit kruid eet je niet in grote hoeveelheden. Daarvoor is het ook een beetje te sterk. Je verwerkt vaak een paar plukjes in een gerecht. Denk aan een lekkere curry, in een smoothie of op een salade als topping. Elke dag een plukje nemen kan jouw gezondheid ondersteunen.
Professioneel advies
Wil je meer weten over gezonde kruiden en hoe je hiermee je gezondheid kunt ondersteunen? Maak dan een afspraak met me via 06 43 22 44 66 of info@praktijkjademeijer.nl. Je kunt ook direct een afspraak boeken via de afspraakmodule. Ook voor ander voedingsadvies sta ik voor je klaar!
Bronnen: